Portable Toilet Advertising Pricing
D & J Septic Services, Inc offers outdoor advertising on their portable toilet units. With a wide array of locations available, portable toilet advertising provides customers a powerful marketing tool that directly targets their specific local market.
D & J Septic Service, Inc offers advertising on the front and side panels of their Portable Toilets. Pricing is as follows:
Front Panel Advertisement:
The front panel of the unit is the most visible, seen by those entering the unit, as well as, those passing by.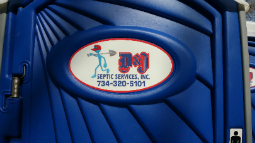 · Month to month pricing: $100/month
· 6 month campaign: $75/month plus receive the 7th month free (6 month total due upfront)
Side Panel Advertisement:
The side panel is easily seen by all passersby and is slightly larger than the front panel. The side panel is an exceptional value when purchased as a pair.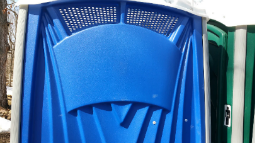 Individual Side Panel Pricing:
· Month to month pricing: $40/month
· 6 month campaign: $30/month plus receive 7th month free (6 month total due upfront)
Side Panel Pricing When Purchased as a Pair:
· Month to month pricing: $60/month total
· 6 month campaign: $50/month total plus receive 7th month free (6 month total due upfront)
*Other packages available include 12 month plans, full unit packages. Please ask for details*